09 November 2020
-
11 November 2020
Online
FIS / HIS International 2020

The 'live' event took place from Monday 9 November  to Wednesday 11 November but access to conference content is available for registered delegates to view for one year up until Friday 5 November 2021.   
If you have already registered, you should have received an email confirming your login details from events@fitwise.co.uk
Access to the conference for registered delegates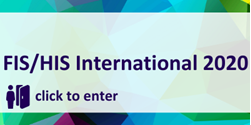 If you have any issues signing in or have not received your login details, please email events@fitwise.co.uk - this inbox will be closely monitored to provide a timely response.  Alternatively you can contact the events team on +44 (0) 1506 292042 (Monday to Friday, 09:00 until 17:00).
The programme and sponsors
Programme
You can access the conference programme by clicking here.  
When you access the conference, Please take time to visit our
Sponsor forum: Without the support of the sponsors, this event could not take place.
Posters: Please take time to visit the poster area featuring 200+ posters.



Certificate of attendance
Certificate of attendance
Certificates of attendance were sent to all delegates who logged in and attended the live event from 9-11 November.  The programme was awarded 15 CPD credits by the Royal College of Pathologists.  Any additional presentations viewed following the live event can be self-accredited via your CPD portfolio.
Get Involved
Follow us on Twitter: @HISConf @HIS_Infection and use #FISHIS20